Ones to Watch: 25 Creators to Follow Right Now
ACTIVATE is continuing to make strides to highlight stellar creators in the community. Whether it's creative content or phenomenal photography, take a look at these 25 influencers that are changing the game. Check out the full list below:


Dabito Luong is the creative force behind Old Brand New, an acclaimed blog specializing in design and home décor. Dabito's aesthetic is beyond unique, seamlessly melding modern, vintage, colorful, and geometric styles for a feel that's all his own. Dabito is certainly making a names for himself, with his work gracing the pages of Elle Decor, Dwell, The New York Times, The Los Angeles Times, Architectural Digest, and more. His impressive social media following certainly agrees.
Essie Golden of Essie Golden

Essie Golden is the in-demand model, body positive advocate, and influencer behind self-titled blog, Essie Golden. Essie's blog focuses on the fashion vertical, offering curated outfit inspiration looks, seasonal trend forecasts, and more. That's not all either. Essie breaks the typical influencer mold, choosing to wield her influence with social responsibility by using her platform to inspire and encourage her viewers to embrace self-love and self-care and feel comfortable in their own skin. Essie is surely a force to be reckoned with, using fashion for good, one post at a time.
Jane Ko of A Taste of Koko

A Taste of Koko is the creation of Koko A.K.A Jane Ko. In 2010, Jane founded A Taste of Koko exploring all the sights and delectable delights of Austin, Texas. She is without a doubt an expert in her field. Her content has been featured with the likes of O Magazine, InStyle Magazine, OWN Network, the Travel Channel, and more. Her travel guides, recipes, and general love for good cuisine have fueled her collaborations on sensational content with KitchenAid, IKEA, Carnival Cruises, and more.
Jeremy Jacobowitz of Brunch Boys

Breakfast burritos, bagels, and burgers galore. Brunch Boys is the incredible home of sinfully delicious food but not just any food. That's right you guessed it, it specializes in every New Yorker's favorite meal — brunch. Leader, Jeremy Jacobowitz, has more than a decade of experience under his belt, having worked in production for juggernauts like Food Network and Cooking Channel. His expertise shines through, as he goes the extra mile offering videos, blog posts, and restaurant guides to make sure that viewers scores good eats no matter where they are in NYC.
Jeremy Scott Foster of Travel Freak


Jeremy is a man on the move, having been traveling the world since 2010. He's been everywhere from Mexico to Greece and everywhere in between, documenting his journey all along the way on Travel Freak. Jeremy's stunning photography is the first thing that you will notice when engaging with his content. He takes it one step further with travel guides, travel gear, and travel tips from his experience as a seasoned professional. That's not all either, Jeremy seeks to be an inspiration, encouraging his readers to get out there and experience the world first-hand.
Jessica Wang of Not Jess Fashion

Jessica Wang is the top New York City fashion influencer and tastemaker behind the aptly named, online fashion destination, Not Jess Fashion. Jessica is an undeniable sartorial force. Mixing the highs and lows of luxury fashion and high street brands, she has experienced remarkable growth in the size of her audience base, hitting a whopping one million strong in the four short years since her blog's inception. This growth has allowed Jessica to earn huge partnerships with some of fashion's biggest names including YSL, Omega, Burberry, and Dior.
Jinna Yang of Project Inspo

Project Inspo is an online community founded by seasoned globetrotter, Jinna Yang. Jinna started Project Inspo, five years ago back in 2013 when she made the choice to leave behind her life and corporate job to travel the world. Project Inspo is uniquely personal, giving readers a glimpse inside Jinna's mind. The site highlights her travels, her bucket list, and her inspirations. Above all else, Jinna seeks to inspire her readers to travel the world we live in and achieve the life of their dreams.
Joey Zauzig of Joey Zauzig

Joey Zauzig and style go hand in hand. In the four years that he's lived in New York City, Joey has become a fashion phenom, drawing inspiration from the great city itself. Joey pounds the pavement with uber cool looks, exuding confidence all the way. Joey is unique, ambitious, and focused. He has established himself as a true style star, accruing more than 85,000 eager followers on Instagram alone. Joey has earned top partnerships with a number of top brands including Braun, Revolve, and Kenneth Cole and is not showing any sign of slowing down.
Kate Arends of Wit and Delight

Kate Arends is the founder and lead author behind design studio and blog, Wit and Delight. Wit & Delight began in 2008 while Kate worked as a graphic designer. Since then it has grown tremendously, with countless features in legendary publications like Vogue, Architectural Digest, and Good Housekeeping; collaborations with renowned brands like Target, 3M, and Fossil; and an astounding 3.1 million unique followers. Simply put, with sharpness, wit, and quirkiness, no one does design like Kate.
Kathleen Barnes of Carrie Bradshaw Lied

San Francisco-based, Carrie Bradshaw Lied is home to Kathleen Barnes' unique take on all things fashion with a delightful twist of content focusing on home, food, beauty, travel, and marriage. Kathleen draws the name of her fashion platform from the adored Carrie Bradshaw of Sex and the City. Carrie, a fictional character, made life as a young woman in the working world look easy. Kathleen would eventually learn that life as a working woman is a little tougher than it looks. However, Kathleen seems to have it down pat, impressively nabbing more half a million adoring followers.
Lee Litumbe of Spirited Pursuit

Lee is the spirited voice behind digital travel platform, Spirited Pursuit. Lee combines her love of photography and storytelling to create awe inspiring content in the world's most beautiful destinations from Zanzibar to Rajasthan. Uniquely, Lee doesn't just share her own travel experiences, but allows other travelers to contribute their journeys to Spirited Pursuit as well. Since beginning in 2014, her collective of creative content has earned her numerous accolades including features on the pages of acclaimed pages of household publications like Ebony Magazine, Refinery29, and USA Today.
Luanna Perez-Garreaud of Le-Happy

Luanna Perez-Garreaud is the founder of personal style blog, Le-Happy. Luanna is a veteran in the blogging game. She is well known in the social media space, recognizable by her show-stopping hair colors and unique personal style that combines elements that are a little bit goth, a little bit 90s, a little bit boho, and a whole lot of cool. Le-Happy has grown to a multi-channel phenomena, having started with a thriving blog and grown to encompass a YouTube channel and massive Instagram following of more than two million viewers.
Mary Leest of Mary Leest

Mary Leest is a consummate creator focusing in the verticals of fashion and travel. While based in New York City, Mary jet-sets all over the world with one super chic outfit after the next. She is wildly popular Instagram, and has grown to establish herself as an influencer on her self-titled YouTube channel as well. Having worked with brands like Revolve and Kenzo and jet-set from Ibiz to Dubai, Mary is the real deal. It's pretty plain to see, audiences cannot get enough of Mary and her fashion looks. She has ingeniously garnered more than one million followers on Instagram and 200,000 subscribers on YouTube respectively.
Melanie Elturk of Haute Hijab

Melanie Elturk is the former attorney turned founder and CEO of blog and modestwear company, Haute Hijab. Growing up Melanie found it difficult to find hijabs that she could mesh with her fresh, confident style. Disappointed, she did what any ambitious tastemaker would do, and created her own. Fast forward to today, Melanie is making serious moves. She has more than 10,000 customers all across the globe and has gained notoriety with features in legendary fashion publications like Harper's Bazar Arabia, Elle, and Vogue Arabia.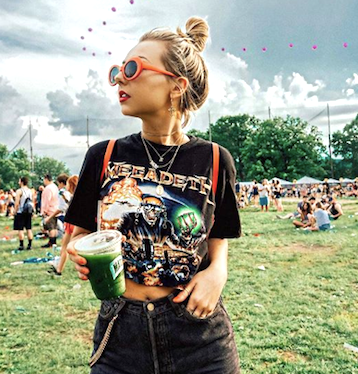 Nicole Alyse of Nicole Alyse

Nicole Alyse is the founder of Nicole Alyse, a New York City based blog focusing on fashion with additional content geared towards travel, beauty, and vegan food. Nicole is a social media darling, with more than 115, 000 followers on Instagram alone. Even better, in true girl boss form, Nicole is not just an influencer but also an entrepreneur, as the owner of vintage boutique, American Gypsy Vintage. Nicole's epic vintage style is making waves, gracing the pages of Nylon, Teen Vogue, Cosmopolitan, Marie Claire, Seventeen, and more. The best part, Nicole's just getting started.
Remi Ishizuka of Rrayyme

Remi is the sunny Los Angeleno with a self-proclaimed passion for self-care and healthy living behind fitness and wellness blog, Rrayyme. Remi got her start 4 years ago, documenting her healthy breakfast bowls. She has come a long way since then, evolving to offer her audience healthy recipes, fitness tips, and pampering techniques with the hopes of helping them achieve a sustainable and healthy lifestyle. Her content is adored by her 200,000 followers and brands like Adidas, Caress, Kiehl's, and Yoplait that seek her voice for custom collaborations.
Salomon Dubois Thiombiano of Duc Dubois

Salomon DuBois Thiombiano is the influencer, stylist, buyer, and GQ Insider behind Duc Dubois. Salomon has spent much of his youth in fashion capitals like Paris, Milan, and London where he learned to hone his unique aesthetic and sartorial art. Salomon's distinctive style combines street style edge with quintessential Parisian ease. With more than 100,000 followers and a robust portfolio, Salomon's work has been featured in the likes of GQ France, The New York Times, Vogue UK, Vogue Italia, The Impression — CFDA, and more.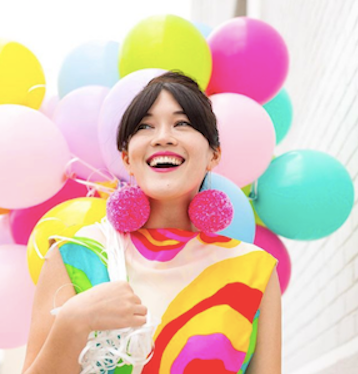 Sam Ushiro of Aww Sam

Aww Sam is a creative lifestyle blog founded by Sam Ushiro in 2015. Aww Sam is the go-to for colorful DIY projects, party ideas, and all things playful and bright. With a background in industrial design and styling, Sam is in a league of her own. Her content is whimsical, practical, and sure to make you smile. She has partnered with big names like Target, Google, and Dunkin Donuts and received face time on Buzzfeed, Martha Stewart, and Refinery29. With a résumé like that, in the three years since her blog's start, Sam has become a mega-influencer with more than 2.5 monthly viewers on Pinterest and nearly 300,000 followers on Instagram.
Will Taylor of Bright Bazaar

Will Taylor founded Bright Bazaar, a colorful blog focusing on home décor, design, and travel in 2009. Nearly 10 years later, Mr. Taylor has become a respected voice in his vertical. With an enormous following of 3.6 monthly viewers on Pinterest and nearly 250,000 followers on Instagram, Will has become a go-to creator in the world of décor and design. His work has been featured in Elle Decor, The Huffington Post, and Buzzfeed. Impressively, Will also recently made the move from the screen to the page with his first book, Bright Bazaar: Embracing Color For Make-You-Smile Style.